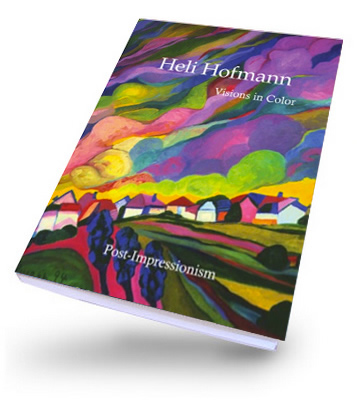 Heli Hofmann Visions in Color
Heli Hofmann was born in the countryside of Bavaria, 1937, and grew up in an enthusiastic and lively family. Her paintings capture and enhance the beauty of idyllic landscapes, baroque churches, and picturesque villages. Her extensive travels to other lands are also depicted with bold strokes and vivid colors, in new visions of rural and urban beauty blended with harmony of land and sky.

Heli immigrated to California where she discovered the New World, its Spanish missions, flower fields, and sunlit beaches. Her post-impressionistic style has influences of artists such as Franz Marc, August Macke, Gabriele Münter, as well as the early works of Wassily Kandinsky.
Heli Hofmann's book of 260 post-impressionist paintings is now available for Ipad and Kindle for $4.99 (US)

For Kindle tablets (US): http://www.amazon.com/dp/B00LNMMRH
For iPad tablets or Mac, search "Heli Hofmann" on your itunes Store under Books or from ibooks on iPads

Also available as soft cover printed book:
260 pages color. 11"X8.5". Edition: English / German - ISBN: 978-0-9894324-2-9
Available at Amazon: US - Germany - France - Italy - UK - Spain